January signals the start of a new year and the time for new beginnings. Getting fitter is often one of the top new year's resolutions for many, especially parents with young children. But how do you fit it into your busy schedule? Here are a few top tips on keeping fit and active with the kids.
Step on it! 
Sounds simple but it really works – aim to achieve 10,000 steps a day. Invest in a simple pedometer, a fitness tracker or most smartphones will count steps too. I once walked around the block before bed to hit my 10,000-step target!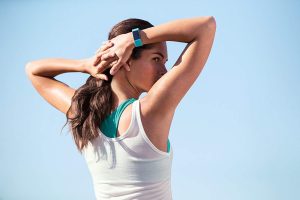 Buggy Fitness 
Invest in a baby buggy that is easy to run with and you and your baby/toddler can both have fun. Little and often is the key here. Even a 15-minute run around the park once a day will get your heart rate up. There are some great youtube videos with all sorts of workouts you can do with a pram! Parents.com has some good tips on running safely with a baby buggy.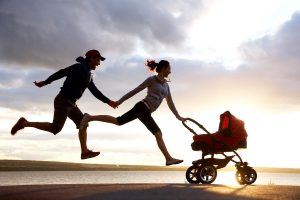 Get fit with the kids
Enjoy running around the park or playing football with your children and you will certainly burn some calories. Your step count will go up too, oh and…you might just have fun!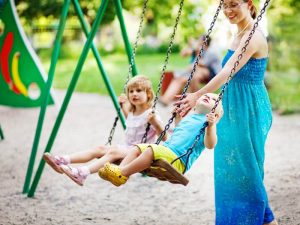 Baby goes too & creche
There are plenty of options to bring your baby along to a class. I tried baby yoga which was great fun and the bonus is you'll both get to meet other parents and babies. Alternatively, find a gym with a creche. I found this especially helpful when I had young babies. It was great to have an hour or so to myself to swim or catch a class while my baby was being cared for.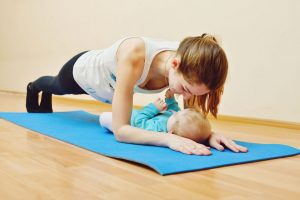 Workout @ Home
I personally love work out DVDs. There's no running to a class at a specific time as you can just stick on your DVD and work out when it suits you. The danger, however, is that you will never put it on! Top tip – plan to work out with a friend (perhaps nap time for both your babies or when the kids are at school) or if that doesn't suit message each other to commit to doing at least 15 minutes of exercise when it suits you. My favourite is Davina McCall as she's fun and realistic but there are so many it's super easy to find one to suit you.