Gaelic name labels
After countless requests, we decided it was time for us to create a range of Gaelic label design options. Find out more about them below!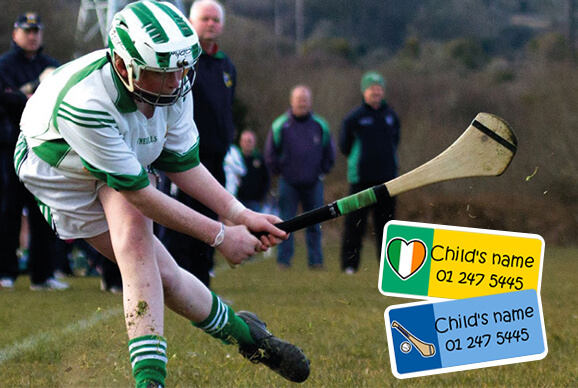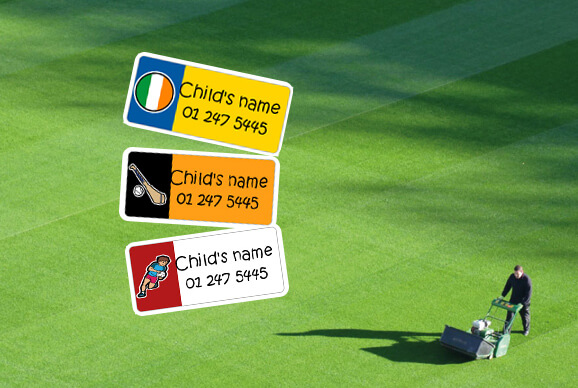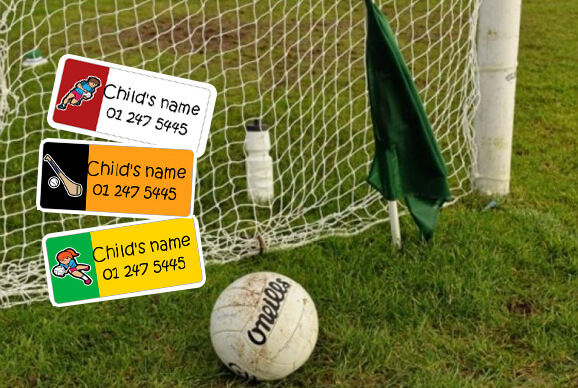 Gaelic Sports Icons
If your little ones fancy themselves as the next great Gaelic footballer or top hurling player then our Gaelic sports icons are perfect. We have a hurley option that will look great on helmets and sticks to help make sure that they do not go missing. If Gaelic football is more their thing, then the good news is that we have both male and a female football player designs to choose.

County Flag Backgrounds
Whether on the field or off it, you or your children can show off their allegiances thanks to our wide range of county colour backgrounds. From Armagh to Waterford, we have got every option covered on both sides of the border.


Order 1 set of 56 name labels with Gaelic designs for €16.95
Our Gaelic name labels - find yours!
Our Irish stickers and iron-on labels are suitable for:

Stationery

Clothing and school uniform

Shoes

Baby equipment

Toys

Socks and Underwear

Sports/PE Gear

We have the best name labels in the world

High quality

Our Gaelic nametags are made to last. We use the best possible material and adhesive to ensure that the labels stay stuck and will not suffer from wear.

Last longer

Our labels can endure the rigours of daily school life and will remain in place well beyond the end of the school year. They are extremely resistant to washing machines and dishwashers. Gaelic colour iron-on labels come with our 10-year washing guarantee.

Customer Satisfaction

We have an almost 100% customer satisfaction rating, unmatched in the nametag market. We are confident that you will love our labels too and will be happy to assist should you encounter any issues.

Get started!


Design your County labels now, or choose from our other products.

1 set of 56 sticker, or 56 colour iron-on labels for for €16.95