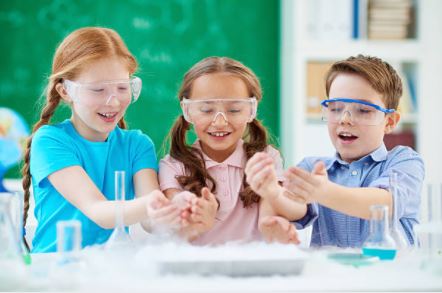 Children are naturally curious and without exception all children love learning about science as it means learning all about the world around them. Science surrounds us; in nature (learning about how plants grow), baking cakes (where plenty of chemical reactions occur) or making a model volcano (chemistry and geography). Learning about our bodies helps with understanding the world of biology.
Conducting some simple science experiments at home will help develop your child's inquisitive mind. Plus they'll learn how to use equipment such as magnifying glasses, microscopes, magnets, scales, sieves etc safely and correctly. They can also observe changes like melting an ice cube, frying an egg or growing cress. Predicting is another skill set that science experiments require; what do they think will happen? Maybe most importantly, planning skills are essential. Which steps should be followed before carrying out the experiment?
With a little imagination, you can carry out some experiments at home too. The internet is a great resource for finding out how to do some great but simple experiments at home with your kids. Our favourite kitchen experiment is to make a volcano. Here's how:
You will need:
One small plastic bottle
Brown modelling clay
Bicarbonate of soda
White vinegar
One plastic container
Washing up liquid
Red food colouring
1. Take the plastic bottle and mould the modelling clay to make a volcano cone shape around it.
2. Place your volcano onto a tray. Squirt into the bottle about 2 tablespoons of washing up, 1 tablespoon of red food colouring and 2 tablespoons of bicarbonate of soda.
3. Lastly, pour in the vinegar and watch your volcano erupt! To do it again, wash out your volcano and start again at step 1.
Alternatively, you could buy a science kit to help you discover all about rainbows or how to make slime!