Travelling with children can stressful with children especially if it involves long waits at airports or lengthy car journeys. As a mum of four I have found that with a bit of planning you can have a stress-free journey…well almost! All my children from a very early age had their own backpacks into which I would pop a variety of things to keep them entertained and they too would bring a few of their favourite toys.
Most of these items do not involve any kind of technology or power as some of the best ways of keeping children entertained are often the most simple.
Travel Mobile
This lightweight, portable mobile is a must for babies who travel. The VTech Pack n Go Travel Mobile easily attaches to most cots, playpens, prams and baby carriers. The light-up button plays lullabies and melodies and has a multi-colour night-light to soothe your little one when away from home. Set the timer and it will automatically switch off. Suitable from birth €27.00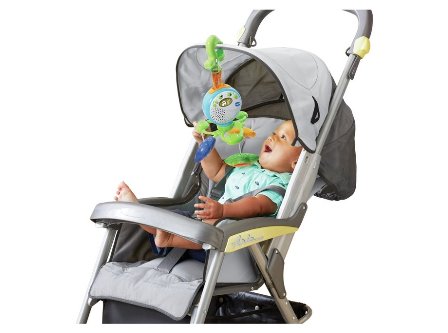 Aquadoodle
Keep toddlers entertained with the added bonus of no mess with this portable Tomy Aquadraw Travel Drawing Bag. Simply fill the Aquadoodle pen with water and see your designs magically appear. Once the water dries the drawings fade away so you're ready to start again. Suitable from 18 months. £13.05. Available for delivery in Ireland.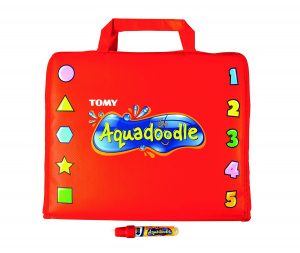 Books with added extras
Small children love being read to. Thomas is a favourite and this new book also has 10 magnetic characters to create adventures of your own with Thomas, James, Percy, Harold and all their friends. Thomas & Friends Magnetic Children's Book €8.50. Babies and toddlers love pressing buttons and The Tiddler Sound Children's Book €18.00 will bring the story to life.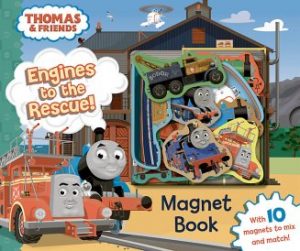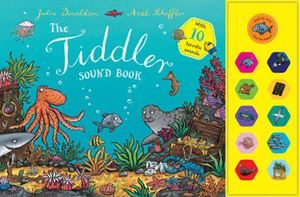 Travel Train Set
My kids love a train set and this new travel version from Brio comes with a special carry-along case. Chunky plastic connector pieces help kids guide the train onto the tracks, and the train car polarity swivels so that the cars can be easily attached in any direction. My First Take Along Set £29.99. Available for delivery in Ireland.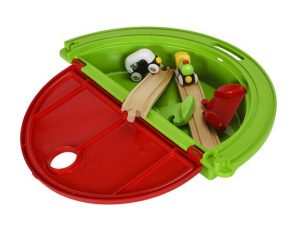 Creations on-the-move!
Playdoh is always a winner in my book. This Play-Doh Activity Backpack is perfect for having fun on the move. Includes coloured doughs, tools, pens and a colouring book £6.99. Or try Playfoam – a lightweight modelling foam that never dries out. The Playfoam Go! set in a plastic carrying case includes 8 colours of PlayFoam, each kept neat and tidy in its own unique compartment £12. Available for delivery in Ireland.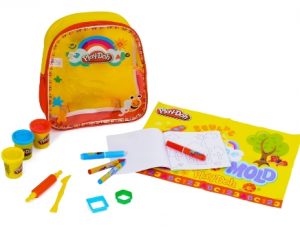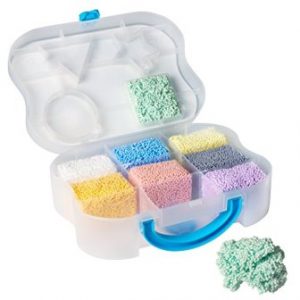 Activity Cards
These brilliant cards from Usborne are a must for kids on any journey. 50 wipe-clean cards with 100 simple activities to keep young children occupied including games, puzzles and quizzes using everyday objects found inside the vehicle or seen out the window. Plus a special pen to write on the cards. 100 things for little children to do on a journey £6.99. Available for delivery in Ireland.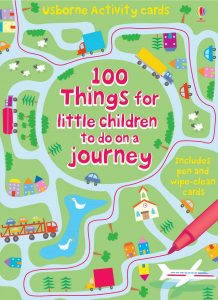 Playmobil Travel Sets
My kids love Playmobil and we've found these travel sets to be particularly good for entertaining them on journeys but will also provide hours of fun at your holiday destination. Playmobil City Action Take Along Hospital Playset €29.50.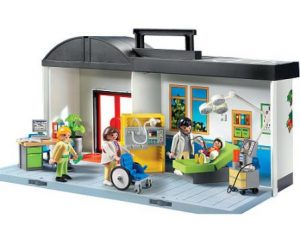 Educational Packs
Add an educational twist to your travel toys with this portable pack which teaches children all about letters. There are ones on numbers and shapes too. Age 5+ Fundels Play & Learn Writing Letters £9.99. Available for delivery in Ireland.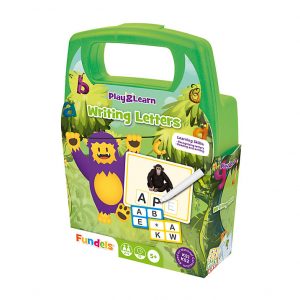 Cards
Playing a game of cards whiles away hours while travelling and is fantastic fun when you get there too. As a family we love UNO. It's easy to play, fast paced and quite addictive too. For 2-10 players £7.99. Available for delivery in Ireland.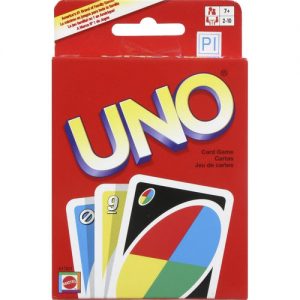 Top Trumps
Top Trumps is a must on any journey. There are hundreds of sets to choose from to suit all tastes from Paw Patrol to Star Wars, Harry Potter and Football. Top Trumps £4.99. Available for delivery in Ireland.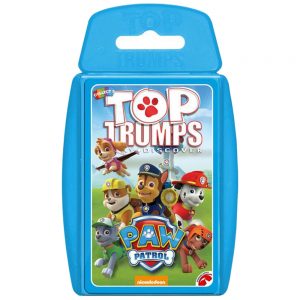 Bananagrams
Banangrams is the perfect travel game as it requires no pencil, paper or board. All you need is a flat surface. Great for family fun and helps with vocab and spelling too. Age 7+ Bananagrams £14.98. Available for delivery in Ireland.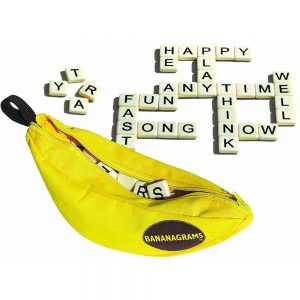 Sticker Books
Sticker books are just perfect for entertaining kids almost anywhere. Peppa's Dress-up sticker book  £5.99 is perfect younger children. While older ones would love this fantastic Big Dinosaur Sticker book £6.99. Available for delivery in Ireland.